My son attends a traditional public school and my daughter attends a public charter school. It is worth looking into other schools to see what best meets each kid's needs.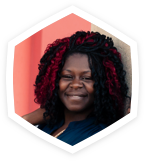 Courtney, Indianapolis
Traditional Public Schools
Many families exercise school choice by moving to a community to attend a particular public school. Some traditional school corporations are offering families choices through magnet schools or career and technical education. Some public school districts allow students to transfer to another school within their district or accept students from different school districts. To see a list of public schools that accept transfer students, click here.
Find Traditional Public Schools Near Me →
Public Magnet Schools
Magnet schools are traditional public schools within a district that offer focused content for students in addition to their regular course work. These "magnets" attract students who are interested in topics such as performing arts, math, science, humanities and visual arts, business and financial studies, and international studies. Like other traditional public schools, these schools are free to attend and open to all students.
Public Charter Schools
A charter school is a type of public school that is free to attend and open to all students, regardless of where they live. Charter schools have more flexibility than traditional public schools. In exchange, charters have high accountability standards and may lose their ability to operate at any time if they are low-performing. There are more than 100 charter schools throughout the state of Indiana serving approximately 43,000 students. View a list of all charter schools in Indiana here.
Find Public Charter Schools Near Me →
Private Schools
Private schools are created and operated by private groups, and often focus on a set of core values or beliefs. Private schools use selective admissions processes and charge tuition to attend. Indiana offers families financial assistance for tuition through school vouchers and tax credit scholarships. Learn more about these programs and see if your family qualifies for financial assistance here.
Find Private Schools Near Me →
Virtual Schools
Virtual schools may be public or private. Public virtual schools are a free option for families. Some school districts also operate online schools as an option. These virtual schools are accredited and available to students in grades K-12.
Find Virtual Schools →
Homeschool
Parents can choose to educate their children at home. This type of education is parent-directed and parent-funded. Homeschooling is legal in one form or another in all 50 states, but each state has its own statutes and regulations governing the practice. Families who homeschool their children may be eligible for a tax deduction. For more information on homeschooling in Indiana, visit the Indiana Association of Home Educators.